Dinosaur National Monument
Stargazing at Dinosaur National Monument is well worth the visit. This unique National Monument borders Colorado and Utah in the northwest corner of Colorado and the Northeast corner of Utah. Most of the canyon country area lies in Colorado. About 25% of the park, including the quarry area, is in Utah. In addition to seeing the area's fascinating history, stargazing at Dinosaur is a spectacular nighttime treat.
Dinosaurs once roamed here. Their remains are visibly embedded in the rocks for you to see. While visiting today, you will be aware of deserts, fast-moving rivers descending through deep canyons, and nearby mountains which support a wide variety of lives.
Evidence of Early Indigenous People Inhabiting the Area
Native American Petroglyphs and pictographs tell us of earlier cultures through their expressions of life, beliefs, and religion. Explorers and expeditions came second and later followed the white anglo settlers and outlaws fascinated by this unique area. You personally may have passions for history, science, culture, adventure, hiking, scenery, photography, or a combination of them. Whatever your pursuit is, Dinosaur offers much to explore and to offer its visitors.
Geography of the Area
Not only that, this special place includes 300 square miles of high desert canyon country through which the Green and Yampa Rivers flow. You can see where the Rocky Mountains end and the desert begins. This area, known as "The Canyon Country," offers great scenery, hiking, and whitewater rafting on the two rivers. You'll want to explore the magic of millennia gone by and present-day scenery that is next to none at Dinosaur National Monument.
There are campgrounds in the area that offer prime opportunities to explore, raft, kayak, hike, fish, and do some nighttime Colorado Stargazing from your campsite.
Dinosaur National Monument a Dark Sky Site
An added feature, Dinosaur National Monument was designated as a Dark Sky Site by dark sky.org; without a doubt, you will want to enjoy the night sky and its multitude of stars and planets while stargazing at "Dinosaur National Monument."
The Fremont People and their Designs
Viewing Native Petroglyphs and Pictographs

Fremont Culture designs include petroglyphs (patterns chipped or carved into the rock) and pictographs (patterns painted on the rock). Pictographs are not common here. Perhaps because they are more easily weathered and disappear with time. Some petroglyphs show traces of pigment, possibly indicating that many designs originally included carved and painted areas. Many of the sandstone cliffs are darkened with desert varnish, a naturally formed stain of iron and manganese oxides. These darkened walls provided the perfect canvas for carving petroglyphs because of the stark contrast of light and dark. Most of these designs are outlines. However, some are completely pecked to form solid figures, and a few consist of small holes in closely spaced rows.
Freemont Design Style
The style and content of Fremont designs vary throughout the region. The "Classic Vernal Style" is dominant in Dinosaur National Monument. It is characterized by human-like figures, animal-like figures, and abstract designs. Human figures typically have trapezoidal bodies, which may or may not include arms, legs, fingers, and toes. Often they have elaborate decorations on them, suggesting headdresses, earrings, necklaces, shields, or other objects.
Animal Figures in Fremont Art
The animal figures include bighorn sheep, birds, snakes, lizards, and more abstract animal-like shapes. Purely abstract or geometric designs, such as circles, spirals, and various combinations of lines, are common, and many are thought to represent natural objects or religious ideas.
Why did Fremont create these designs, and what did they mean? Maybe the designs served some ceremonial or religious purpose. Most likely, there are depictions of hunting activities. They might have been associated with the identification of clans. As well there is speculation that some represent astrological events that were probably significant in their lives. They revered nature, so I have a hunch that they did a lot of stargazing. Perhaps they were simply an expression of the artist's imagination. All in all, there is some consistency of images between locations, so it seems as if they must have a cultural meaning beyond the artist's expressions. Attempts to interpret the designs by comparing them with recent Native American groups may provide clues, but the true meaning remains a mystery.
Be Respectful of Artifacts
While we can't damage the night skies at Dinosaur, many native artifacts and designs in the monument are fairly easy to access and allow up-close viewing. This art is very fragile. Touching the petroglyphs and pictographs can damage the designs by leaving oils behind that abrade the rock. Tracing and rubbings can damage the soft sandstone designs. For these reasons, please do not touch the designs. Many are quite large, so there is no necessity to view them up close.
The Fremont Culture
The Fremont people lived in this area about 1,000 years ago and left evidence of their presence in the form of their petroglyphs and pictographs. Several areas in the monument allow visitors to access these designs to develop their own theories about them.
Archaeologists first studied and named the Fremont culture along the Fremont River in south-central Utah and have since traced it through much of the Green and Colorado River drainages. The Fremont people's lifestyle varied considerably throughout that area, reflecting the diverse environments that they inhabited. In general, they lived in small bands or family groups. Additionally, they grew crops to supplement native foods and did not build large permanent dwellings like the Anasazi.
Early Fremont Habitation in Dinosaur National Monument
In the Dinosaur National Monument area, archaeological evidence of the Fremont dates from about 200 A.D. to approximately 1300 A.D. While few actual houses remain, known dwelling places ranged from natural shelters (such as rock overhangs or shallow caves) to small "villages" in open areas. Archeological evidence suggests many dwelling sites were occupied only seasonally, as the people moved into and out of an area according to water and food availability.
.
Sites to See in the Area
Swelter Shelter
Location: A half-mile from the Quarry Visitor Center along the Tour of the Tilted Rocks Scenic Drive
Difficulty: easy walk, approximately 200 feet from the parking area
Description: a variety of both petroglyphs and pictographs designs
Cub Creek
Location: 9 miles from Quarry Visitor Center along the Tour of the Tilted Rocks Scenic Drive
Difficulty: easy walk to the panel with a variety of designs, approximately 50 feet from the parking area; moderately strenuous hike on ¼ mile trail to lizard figures (lizard figures can be seen with binoculars from the parking area)
Description: petroglyph panels featuring a variety of typical Fremont designs, including several large lizard figures, not common at other sites
Deluge Shelter
Location: the trailhead is 44 miles from the quarry visitor center at the Jones Hole Fish Hatchery; pictographs are approximately 2 miles from the trailhead along with the Jones
Hole Creek Trail
Difficulty: easy to moderate along a fairly level trail
Description: pictographs depicting animals, people, and abstract designs
McKee Springs
Location: about 22 miles from the Quarry Visitor Center along the Island Park Road; the road is impassable during wet weather – check road conditions before attempting to drive to this site
Difficulty: short trail, with some elevation gain
Description: some of the finest large human-like designs in the area, as well as many other figures
Pool Creek
Location: about 37 miles from the Canyon Visitor Center along the Harpers Corner Scenic Drive
Difficulty: easy walk, few feet from the parking area; the road is impassable during wet weather – check road conditions before attempting to drive to this site
Description: unusual dot-pattern designs high above the creek
John Wesley Powell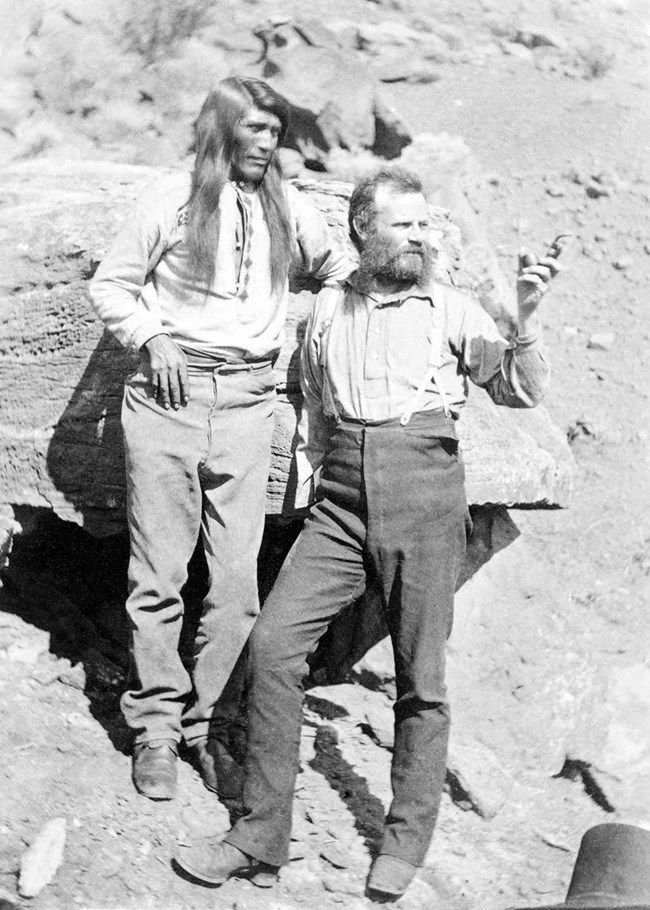 John Wesley Powell with Tau-gu. The Paiute gave Powell the name "one arm off" about his missing limb. He lost his arm at the Battle of Shiloh during the civil war. NPSJohn Wesley Powell remains one of the most legendary characters to pass through Dinosaur National Monument. Even before his historic, early whitewater runs through the entire Grand Canyon, Powell had already led a full life. During the Civil War, Powell commanded a Union artillery regiment and lost his right arm after being wounded in the Battle of Shiloh. After the war, he joined expeditions all over the southwest, becoming the first recorded hiker to summit Longs Peak in Colorado. It was on these journeys he learned of the unexplored canyon country of the Colorado Plateau.

On May 24, 1869, he began a journey for the ages as he led a company of men down the Green and Colorado rivers from Green River, Wyoming, to St. Thomas, Nevada. They were not the first to explore the Green and Colorado River canyons, but they were the first to float them in their entirety. Twice. In 1869, his men suffered through perilous rapids on the first trip, losing an entire boat and a third of their supplies, rotten food, fires in camp, and fist-fights among the men. In the Grand Canyon, three men abandoned the expedition, fearing they could not survive the dangers of the river much longer and having lost faith in Powell's leadership. They attempted to hike out of the Canyon but were never seen again.
John Wesley Powell Explorer with Tau-gu Paiute guide
The Gate of Lodore taken by E.O. Beaman in 1871. Note that the name has now changed to the Gates of Lodore
.
A Second Expedition
NPS/E.O. Beaman Because the conditions were so difficult on the first expedition, with an unknown route, the group never took photographs. This made it necessary to mount a second venture to finish the work. Every photograph we have of the Powell expeditions comes from this second trip in 1871-1872. Many of these images were the first known photographs of the prominent landmarks along the river corridor. In addition, they made the first accurate map of the area.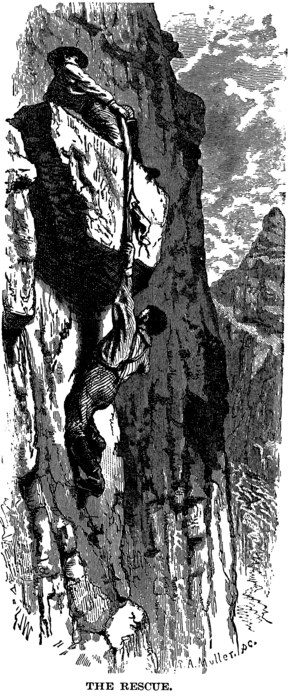 Rapids Along the River
Many of the now-famous landmarks that river runners float past today still hold names given to them by the Powell expedition. Among so many other places, they named the Gates of Lodore, Winnie's Grotto, Whirlpool Canyon, Rainbow Park, and Split Mountain. The famous Disaster Falls earned its title on Powell's first expedition because one of the expedition's boats, "The No Name," was destroyed in its rapids. Another series of rapids within Lodore Canyon, named Hells Half Mile, hints at the difficulties the group experienced navigating particular Green River sections. And it wasn't just the rapids either.
Other Challenges for Powell
Powell had another frightening experience when he tried to climb what we now call Steamboat Rock. He and George Bradley were near the summit when Powell got stuck between the proverbial rock and a hard place where he couldn't climb any further or go back down. Generally, his loss of an arm in the Civil War did not slow him down but attempting to scale the rocky cliff of Steamboat Rock proved a more difficult challenge. It is said that Bradley climbed above Powell and used his pants as a rope to help Powell climb the rest of the way up the cliff.
The success of Powell's Expeditions Led to Western Expansion
Powell's successful explorations opened a huge portion of the west to exploration and settlement. Other explorers and river runners followed in his footsteps, leaving their marks on the area's history. Not only that, he foresaw the difficulty of settling the west, noting the land was mostly unsuitable for agriculture except for careful use of its scant water sources. Powell represents a romantic vision and courage to explore the unknown. This is something that visitors to Dinosaur still feel as they discover the same beautiful country he traveled through long ago. I am sure that Powell and the indigenous people of the area were awed by the night skies at Dinosaur just as we are.
Planning Your Visit
A full day here would include a short visit to the visitor center, continuing up the hill to see the bones and the interactive display, then heading further into the park with the auto tour guide. There are great stops along the way to see the various petroglyphs and the last stop is at Josie's cabin. Here you can take two fairly short hikes from the cabin to see where and how she kept her livestock. Additionally, if you want to do some Colorado Stargazing at Dinosaur National Monument, plan such time in the evening to enjoy the night skies at Dinosaur.
Vernal has a great natural history museum and is perfect for kids to further their exploration of "Dinosaur National Monument".
If you are more into hiking and only have one day left, I would consider going to the Colorado side of the Dinosaur National Monument and drive to the end of the road to hike Harpers Corner Trail, an awesome hike with incredible views.
If you like petroglyphs visit McConkin ranch near Vernal.